I've divided the photographs into categories, as there were getting too many on this page.


This picture is now somewhat outdated - since it was taken a footbridge has
been added, as well as more gorse. However it still gives a good overall impression of the layout, and shows the scale of it (9' 6" long).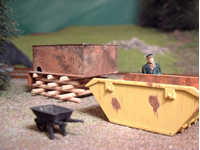 The yard, Glenbranter (added 22-01-2001)
This was taken using the digital camera I bought with the proceeds from the Railway Modeller article, and it's come out surprisingly well. Expect more photos soon!

| | |
| --- | --- |
| | The original track plan of the layout - as you can see, I got fed up making trees before I had covered the area I had planned to! |
Other Stuff
Hosting kindly provided by Maple Design