These photos were taken in August 2000, and were my first view of the real location - some parts were gratifyingly similar to the layout, others were disappointingly different.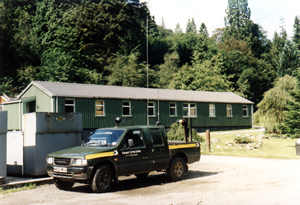 The Forestry Commission base in Glenbranter. I imagine the Railway running into here...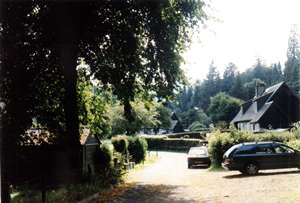 This is a view of Glenbranter village. You can see about a third of it in this photograph, which gives some indication of the size.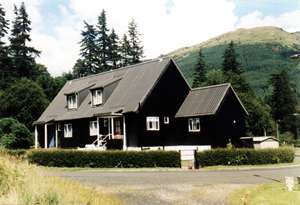 A house in the village. All the houses are built in this style.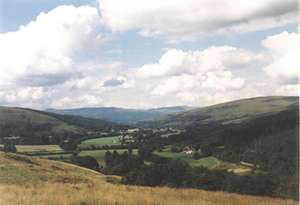 A view from the monument to the North-west of Glenbranter, looking West towards Strachur and Inverary. We saw this monument marked on the map, and decided to take a closer look. Unfortunately there was no path, so it was a hard scramble up a near vertical hill site to reach it. The monument was erected to commemorate Queen Victoria's Diamond Jubilee, but wasn't anything special, and certainly not worth the climb!
I think that the railway station would probably have been positioned at the near-left of the valley bottom, and then would have run to the right of the hill I was standing on.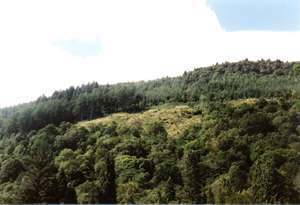 About half a mile to the East of Glenbranter I spotted this space on the hillside which looks very much like my right-hand baseboard!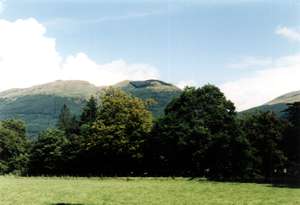 This rather dark photo (actually it wasn't, but it scanned in poorly) is taken from the east of Glenbranter, looking towards it. I have put this photo in the gallery because it shows the hills rather well, and proves that my backscene isn't far off the real thing...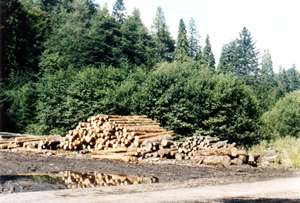 A view of the wood yard (dump?) in Glenbranter. All this is hidden "up the forestry branch" on the layout.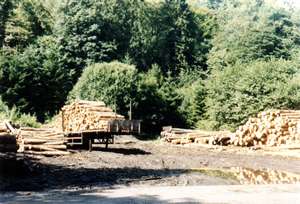 Another view of the wood yard.