Update 2003/12/10: As those of you who turned up to Warley will realise, the extension never materialised. A combination of lack of time and interests in other things made it unfeasible. Plus, I couldn't think how to make it fit in properly with the existing layout - whatever I tried didn't seem to have the same atmosphere.
Yes, it's official: I'm currently designing a new module to add onto Glenbranter.
Why?
Well, I don't like exhibiting, but I love doing scenery. It's been over 2 years since I finished Glenbranter, and while I needed the break I'm itching to get on and model another landscape. And I can't do that without another layout.
So you're rebuilding Glenbranter?
No, I'm going to be modelling another section of the line. It's still going to be part of the South Argyll Railway (I've got too much rolling stock for this railway to move to a different prototype)
How far have you got?
I haven't even finalised the track plan yet! I have a list of features I'd like to include:
It must look more Scottish than Glenbranter, even if I have to take a few liberties.
Water! I want to model the line running along a loch or similar. Originally I really wanted to include a trestle bridge like the one on the Vale of Rheidol Light Railway, but I don't think that'll be possible.
A road. I want to experiment with the Faller car system (sad or what?)
The line to be slightly raised up, giving a better view of the trains
Deciduous woodland, with the train running though it - reminiscent of some of the atmospheric shots of the Penrhyn Railway or the Vale of Rheidol Railway.
Because it has to fit on the left-hand end of Glenbranter it will need to be a model situated somewhere down towards Dunoon, past Loch Eck.
My original plan was to model the loco stabling facilities, which would have given a good place to show off Ian's stock, and to include a river/bridge on this model. However, I had always thought that the loco sheds and workshops would be set at the Arrochar end of the line (close to the standard gauge West Highland Line so stuff could be shipped off to Glasgow for major repairs more easily). So I discarded this idea, as it would mean a board on the right-hand end of the layout which is impossible.
Then I started playing with a loch-side scene based on what I remember of the run-in to Dunoon when I visited there. It could look good but is there enough interest? The trouble with a layout is that you don't want it to look like real life - people find that boring. It has to be like a stage set (not my idea - all credit must go to Christopher Payne) to attract people's attention. So not far fetched, but it's got to be exciting. To see what I mean look out of a window. If you modelled that and took it to an exhibition, would people stop and look at it?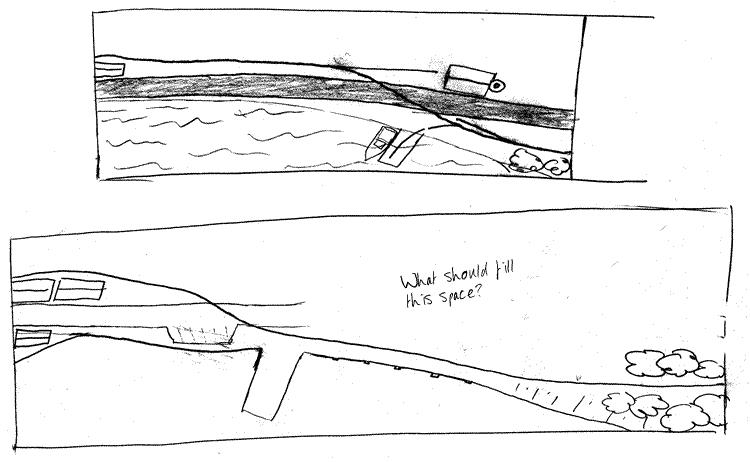 Now I'm wondering whether the workshops would have been at the Dunoon end instead. You've got more people (hence workers) which would seem to make sense. Also, I've always considered the line being built from Arrochar to Dunoon (not strictly true, using Miles Bevan's history it would have been two separate lines that joined up in the middle) but what if it was built out from Dunoon and only later connected at Arrochar? This would mean that the sheds would be based at Dunoon. So I could go back to something based on my original idea :-)
Do you have any thoughts or ideas? If so then please let me know - I'm always looking out for help with layout plans - that's how the wood branch on Glenbranter came into existence (Thanks Tim for the idea - the layout would have been really uninteresting without it!)