STOP PRESS: Glenbranter wins award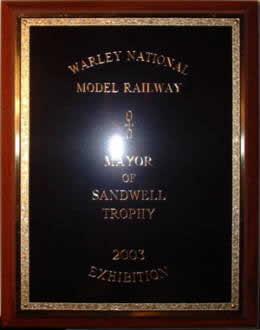 Well, the National Model Railway Exhibition's been and gone for another year, and we had a thoroughly good time exhibiting Glenbranter - plus we picked up the show's trophy!
This site is about my 009 narrow gauge model railway layout, Glenbranter. It is based on a proposal of 1898 to build a railway in west Scotland down the Cowal peninsular, not far from Glasgow. I have modelled it as a preserved narrow gauge railway similar to the rebuilt Welsh Highland Railway, using Garratts and other large motive power. The history section gives further details.
Latest news
Glenbranter goes to Warley (again!) [2003-01-28]
We're back again at the Warley National Model Railway Exhibition at the NEC on 5 and 6 December 2003. Come along and say hello! More details to follow when we get them...
The site's been updated at last! [2003/01/27]
Yes, things are starting to move again. Due to other commitments, and the fact that nothing much has happened to Glenbranter for a while this site had stagnated. Not any longer... there's a couple of new pages (under "Other Stuff" on the menu, and more photos to come.
Since this site was last updated we've rebuilt the fiddle yard for Glenbranter so that it takes up less space and the time to run a train the whole way around the layout is decreased (the biggest flaw with the original plan).
How you can help this site.
If you have questions, please post in the forums - it's easier for me to answer than email, and allows other people with more knowledge than me to help you.
If you buy books from Amazon, please use the search box below, or click on one of the logos to go to Amazon. If you do that and buy a book I get 5% of the price. All funds raised this way will go towards the purchase of a digital camera which will allow me to take many more pictures of the layout. So you benefit as well! The only loser is Amazon...